We are Manufacturer, Supplier, Exporter of Harmonic Filter Capacitors and our setup is situated in Sangli, Maharashtra, India.
Low Voltage Reactive Power Management
A vast majority of electrical loads in low voltage industrial installations are inductive in nature.
Typical examples are motors, transformers, drives & fluorescent lighting. Such loads consume both active and reactive power. The active power is used by the load to meet its real output requirements whereas reactive power is used by the load to meet its magnetic field requirements.
The reactive power (inductive) as always 90 deg lagging with respect to active power as shown in figure 1, figure 2 & 3 show the flow of kW, kVAr and kVA in a network. Flow of active and reactive power always takes place in electrical installations. This means that the supply system has to be capable of supplying both active and reactive power. The supply of reactive power from the system results in reduced installation efficiency due to:
Increased current flow for a given load
Higher voltage drops in the system
Increase in the losses of transformers, switchgear and cables
Higher kVA demand from supply system as given in figure 2
Higher electricity cost due to levy of penalties / loss of incentives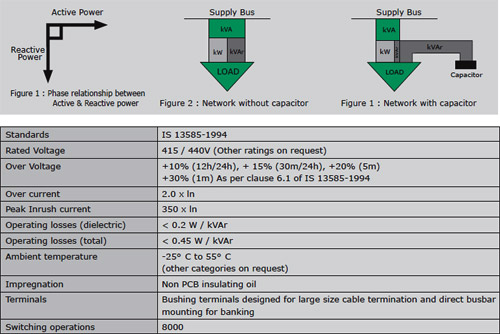 It is therefore necessary to reduce & manage the flow of reactive power to achieve higher efficiency of the electrical system and reduction in cost of electricity consumed.
The most quick & cost effective method of reducing and managing reactive power is by power factor improvement through power capacitors. The concept of reduction in kVA demand from the system is shown in figure 3.
Heavy Duty Capacitors APP (Film + Foil) type
Capacitor must be discharged before it is switched ON again. This helps to maintain the life of capacitor. This also reduces the possibility of electrical shock or capacitor failure. The capacitor voltage must reduce to 75V within 3 mins. This is done by connecting a external discharge resistor across the capacitor terminals. No disconnecting device must be connected between the capacitor and discharge resistor.
The capacitors should be kept in an ventilated atmosphere, free from any corrosive medium. They should be cleaned regularly to prevent build up of dust on the terminals.